Product Description
CBS 0.8 Spindle & Speed Control 500W 12000r/min 52mm clamp Set.
ER11 Chuck CNC 500W Spindle Motor with 52mm Clamps and Power Supply Speed Control with potentiometer.
Specification:
Input110AC±10% 50/60Hz
Spindle Motor500W
Spindle Speed3000-12000r/min
Motor Diameter52mm
Motor Length208mm
Operating Voltage48V DC
Current5A
Chuck size: 1/8
Style: ER11
Set Includes:
CBS 0.8 Spindle Speed Control
500W Air Cooled Spindle Motor
6 FT Spindle Cable
6 FT 110-220 AC Power Cord- Standard
52MM Mount Bracket & 4 Screws
ER11 Collect
ER11 Chuck CNC 500W Spindle Motor with 52mm Clamps and Power Supply Speed Governor
US STOCK, FREE SHIPPING
It only can be used in AC110V±10% 50/60Hz.
Chuck size:
Material: High Grade 45 Carbon Steel
Outer diameter(Max.): 11.5mm
Gripping Range: 3mm
Small diameter: 7.8mm
Fits metric shank size(s): 3mm metric shank

Nut Size:
Inner Diameter: 8.7mm
Height: 13mm
Hex Diameter: 17mm
Outer Diameter:19mm

The Usage of "Don't pipe":
Its function is to inhibit the switched source. If they are open, the source does not give tension.
If the short circuits, for example with a relay, the source generates the voltage to which it is regulated with the potentiometer.
There will be no problem in controlling the motor using these pins.

4 x Screws

Specification:

Dimension 140mm×110mm×48mm (L*W*H)
Input AC220V±10% 50/60Hz
Spindle Motor 500w
Spindle Speed 3000-12000r/min
Motor Diameter 52mm
Motor Length 208mm
Operating Voltage 100V DC
Current 6A
Speed Up to idle up to 15,000 rev / min
Torque 5000G/CM
Insulation Resistance > 2 megohms
Dielectric Strength 400V
High precision spindle runout 0.01-0.03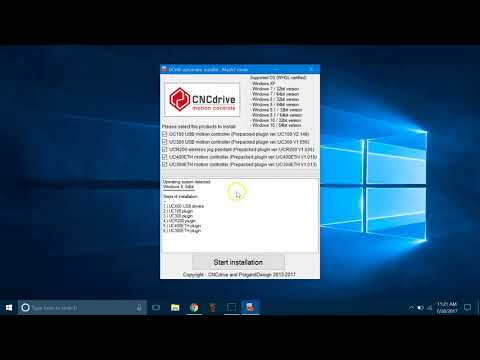 UC100 Install - YouTube
Video will open in a new window
[isdntekvideo]
Warranty Information
30-day Money Back no questions ask.

Feedback is very appreciated but not necessary.


6 months on parts and labor.
Find Similar Products by Category