Product Description
Plug & Play Ready to go 4 Axis CNC Controller, ideal for Medium or Small Router or Small Mill among other applications.
Easy to Install Software, configured for Mach3, just download and install Easy Mode for Mach3 and plugins for motion controller and Mach3 XML configuration are setup automatic, just need to configure additionally the pitch of your specific machine and adjust direction as your preference and motor tuning for optimal performance.
You can easily find all this step by step instructions in our videos and tutorials section or in our YouTube channel.
110 - 220 VAC Single Phase Input
NC (Normally Closed) Mechanical or Proximity sensor Limit Switches: X+, X -, Y+, Y - & Z
One 110 - 220 Spindle or Coolant Vacuum Relay output
· Full control for up to 4 stepper motors of NEMA 17, 23, 24, or 34 recommended for up to 282oz/in Torque
· Step & direction control
· 24 VDC supply voltage 13.4 Amp total
· Convenient individual setting for each axis
· E-Stop in front panel.
. Applications: CNC routers / engravers, CNC mills, CNC Cutters, X-Y tables, among others.
This product must be operated by an adult or under an adult supervision, goggles and other safety measures most be used and taken to avoid any accidents.
1 x CBX 1.7 CNC Controller Box.
1 x 3' Type B Ethernet Cable.
1 x 6' Parallel Priner Cable Male - Female.
1 x 6' 110 - 220 VAC Power Cable
To connect and initial configure your CBX 17 CNC Controller Box you must follow 5 simple steps:
You could also check configuration video in our website tutorials or YouTube.
1. Connect motors cables to each Axis Motor and then to each Axis as labeled in panel of controller.
Make sure notches match.
2. Connect Limit Switch to Ethernet Cable and then to Ethernet connection in controller labeled "LIMIT".
3. Connect Spindle or Coolant and Vacuum to labeled AC output on controller panel.
4. Connect Parallel Printer Cable to Computer and then to input labeled "PC" on your Controller.
5. Finally Connect the 110 - 220 VAC power cables and you're ready to go.
You must install Mach3 software and plug-in from Easy Mode Installation Software Downloadable in our Website before powering controller.
You can run mach3 in demo mode to configure and test your CNC Machine but it will only run up to 500 lines of G-code without a license.
See tutorials on how to buy and install license.
Now you are ready to power your controller and open CBX 1.7 profile in mach3 loader. (see video tutorial)
Make sure you have the E-Stop at hand while configuring mach3.
It is important to determine if you will be using any motor as a slave and configure it before trying to move any axis.
See video tutorials on How to Slave an Axis.
Now you should just go to the Settings tab and determine Units of Operation MM's or Inch and finally set the proper steps per units for each axis in same settings tab.
See tutorials on How to set Steps per Unit.
For any other setting instructions please check our video tutorials on our website or YouTube or contact us via e-mail.
or just search for cncbasis in YouTube.
30-day Money Back no questions ask.
Feedback is very appreciated but not necessary.
6 months on parts and labor.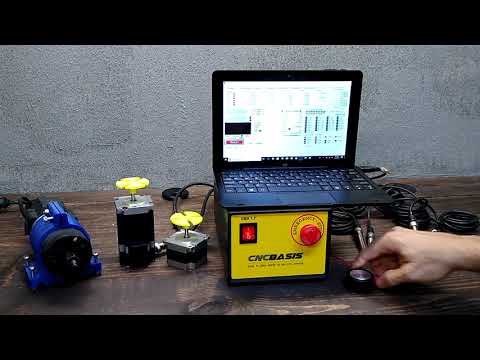 CBX 1.7 CNC Control Box Sneak Peek - YouTube
Video will open in a new window
Using the eBay App? Paste link into a browser window:
[isdntekvideo]
Product Videos
CBX 1.7 Router...

In this video we explain the steps you need to follow once you...

CBX 1.7 CNC Co...

This complete CNC Control box is ideal for small mills and des...
Warranty Information
30-day Money Back no questions ask.

Feedback is very appreciated but not necessary.


6 months on parts and labor.
Product Reviews
Write Review
CBX 1.7

Posted by Dennis on Mar 28th 2020

Purchased CBX 1.7 and Stepper Motors to convert my Sherline 5140 Mill to be able to Run MACH3 , also purchased the UC100 .. Products are all very nicely made I was impressed with the quality of workmanship. Hook up was a breeze even with my limited cnc knowledge. I would totally recommend CNCBasis if you are looking to build or convert your mill or router.
Find Similar Products by Category
Customers also viewed